Just received two new reviews of our wines….looks like folks out there do seem to like us!
First, from Gilbert & Gaillard, a major wine publication in France, we received a very nice score for the 2013 Chateauneuf-du-Pape – 88 points.  That's right in line with the Parker review.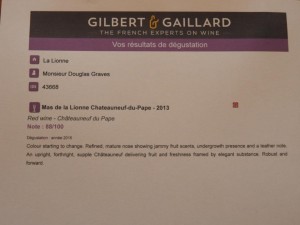 And then that was followed by the 2013 Ombre du Chateau receiving a GOLD MEDAL  from the Lyon International Wine Competition.
I guess we must be doing something right.
And these are both available through the website.  ENJOY!!